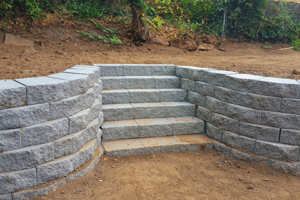 The world is changing, and with it, the vision of how we shape the space around us. Climate change and population growth have spurred conscientious home and business owners to rethink the outmoded concept of flat lawns expanding around homes lined with picket fences, or lifeless planes of asphalt surrounding office spaces and retail outlets.
While grass, shrubs and trees provide habitat for wildlife and prevent water runoff and erosion into our cherished streams and rivers; gravel, paving stones and brick walkways require fewer precious resources to maintain.
The term Hardscapes describes those more permanent elements of our built environment. Hardscaping is slightly different than construction, in that it is used mainly in contrast to its counterpart, softscaping, which refers to the implementation of living components. Think wooden benches set amid plush green lawns, flowers and ferns lining brick pathways, gazebos draped in weeping vines.
Hardscapes are essential pieces of the whole picture. We will help you plan the perfect balance of soft and hard in order to harmonize your desire for practical, ecofriendly design with your vision for a stunning, verdant landscape.