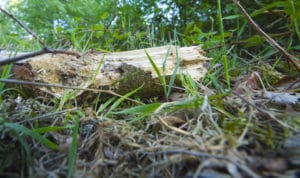 Be it downed tree limbs, fallen fences, chunks of old concrete or just general yard clutter, we'll clean it up for you. From seasonal maintenance, to general yard overhaul to pre and post-landscaping cleanup – and all points in between – Four Seasons will take care of you.
Whether you've recently moved into a home or business location, or are finally ready to turn your long-sought outdoor vision into reality, that vision may be cluttered by fallen tree limbs, piled-up brush, rotting leaves, or other debris. Perhaps you simply need to get that clutter out of there. We'll take care of that – either on a one-time basis or, as part of an ongoing custom maintenance package. That package can include regular leaf removal, post-storm clutter and even snow removal when needed.
Neatness counts, especially in your landscape. Debris removal is an essential part of what we do. We'll keep it clean before, during and after our work reshaping and remaking your space. It's your vision, and you deserve the best service to keep it looking clean and attractive.