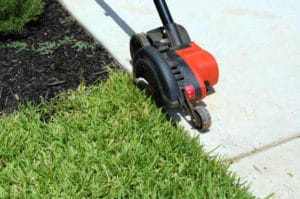 Edging your lawn is like icing a cake. It serves purposes both aesthetic and practical. Icing is enticing. A cake may taste delicious, but without icing is unappealing to the senses. Swirls and rosettes draw us in. Underneath its visual appeal, frosting is holding layers of cake together, filling in uneven areas, and providing support to the overall structure of the cake.
Your lawn may be lush and green, but few will notice if it's not properly edged. The lines created by edging are visually striking. A well-edged lawn looks clean and manicured. The forms and shapes created catch the eye and appeal to our sense of beauty. At the same time, edged areas of your landscape are working hard to keep turf grass from spreading into surrounding areas, separating mulch and soil from grass and hardscaped areas, and highlighting and defining walkways and other landscape features.
The pros at Four Seasons know how instrumental this step is to bringing your landscape vision to life. You wouldn't bake a cake and serve it without frosting. That's why every time we mow— whether on an as-needed basis, or as part of a Landscape Maintenance Package—we edge with skill and precision. Four Seasons' edging service is, simply put, the icing on the cake.