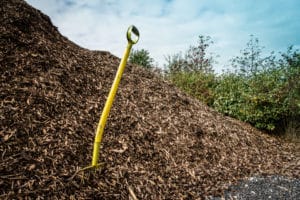 The proper mulching of your flower, shrubbery, and tree bedding will not only give your property a crisp, clean, manicured look, but it will also drastically reduce the amount of time spent weeding, watering and fighting pests. Additionally, it can be used as a top soil treatment to enrich soil in preparation for overseeding.
Bark dust has the same weed prevention, water preservation, and pest controlling properties as mulch. Spreading bark dust over open areas has the added perk of bringing color and contrast to your landscape, giving it a fresh and finished look.
Mulch and bark dust also help with erosion control, and help keep dirt from splashing up on your flowers, home, and hardscape features when it rains. We will install the proper amount of mulch and bark dust to your landscape bedding to effectively promote the health benefits of these landscape components, while maximizing their aesthetic potential.