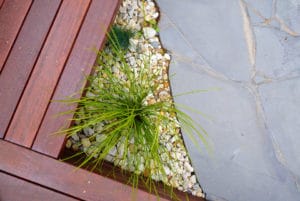 Rock application is the hottest trend in landscaping. Increasingly, people are adding stone components to their landscape design. Low maintenance and sustainability are becoming ever more attractive prospects to property owners for economic, environmental and aesthetic reasons.
Rock is one of the most versatile elements you can include in your landscape. Requiring little maintenance, it is an easy way to enliven any yard or garden. Pebbles, flat stones and boulders add color that won't fade in the sun. Varying shapes and sizes add texture and contrast. Their design can highlight areas such as gardens, creating a focal point and directing foot traffic. Stone pathways create movement and connect all of the landscape's elements.
In landscaping, form meets function. Rock application is a concrete example. While creating visual appeal, rocks double as practical aspects of your landscape. They help prevent erosion and weed growth. They can replace grass or mulch on hillsides and other tough to manage areas. They're great for shaded or overexposed spots where plants struggle to survive. Unlike mulch and other types of ground cover, stone features don't require reapplication, and don't decompose with exposure to the elements.
Perhaps most importantly, rock application is a great way to personalize your landscape design. We at Four Seasons understand that your landscape is an expression of your own unique vision. We share that vision, and will work tirelessly to bring it to life.